Lycoming has announced its annual experimental aircraft engine price adjustments, which will take effect on November 1st. That means you have until October 31 to place an order from Van's at our current prices. The new Van's selling prices are listed below along with our current prices. We are providing this price change information to allow you to make buying decisions and place orders, should you wish to do so, before the price change takes effect.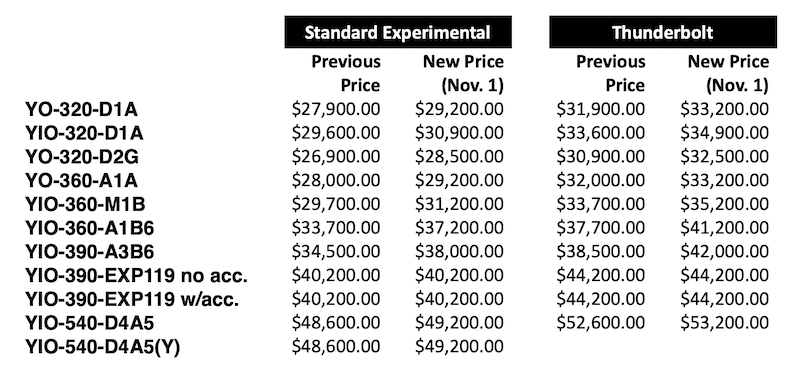 Note: All engines ordered under the current pricing must be ordered with requested delivery dates no later than May 31, 2021. Engines ordered for delivery after that date will have to be ordered at the increased price.
In addition to the engine price changes, the following changes will also be effective for orders received after November 1st:
Flat rate engine shipping in the continental USA increases from $179 to $239.
Thunderbolt engine chrome shroud tubes change from $100/cylinder to $150/cylinder.
Chrome rocker covers on standard engines change to $100/cylinder (as opposed to $400 per engine, so the increase is only reflected on 6-cyl engines).
The Van's propeller/Lycoming engine order bundle ($1,000 discount when you order a prop and engine from Van's at the same time) is of course still available (both before and after the price change).
Now's your chance to lock in the pre-increase price if you want to do so. You can find engine order forms at the links below: