None of us are born already knowing how to build an airplane. There are a number of ways to learn. Most builders buy their kits and dive right in knowing that if they make a mistake, ordering replacement parts is quick and relatively cheap. For those who prefer a more formal introduction, builders classes are offered in several locations around the USA and the world. These classes are offered by businesses that specialize in helping people build airplanes as well as by organizations like the Experimental Aircraft Association, which regularly runs its SportAir workshops to help people learn the fundamentals.
Some of these businesses that offer workshops are also Builder Assistance Centers – a place where you can have your kit delivered, go to their facility, and get professional assistance from experienced builders while you learn and build your RV. In the United States the FAA requires that you (one or more amateurs) perform 51% of the FAA's task list items, but getting educated via "alongside" help from professionals is an option you can take advantage of if you wish.
Educational classes are usually small, with no more than eight or ten people. This allows the individual focus, attention, and close instruction that will best meet the specific needs of the participants.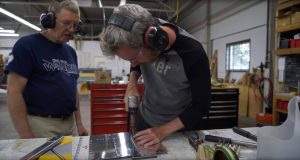 A typical class may last two or three days. After the initial introductions and donuts ("Why exactly did you decide to do this highly intimidating thing?"), the first short sessions are usually spent describing and explaining the basic tools involved in building a metal airplane. Rivet guns, dimple dies, rivet squeezers, deburring tools, and drills are fondled, explained and demonstrated.
The next session usually involves a small, basic project designed to introduce the fundamentals of dealing with aluminum. Parts are measured, drilled, and deburred. When these parts are fully prepared, they can be riveted together. About this time, students begin to realize that the operations they worried about the most (usually riveting) are actually the easiest, while tasks they never considered (all the preparation work) take more time and effort than maybe they'd imagined.
After completing a few small projects, each emphasizing some specific operation, the final day is spent building the "graduation project." This portion of the class is typically more involved and brings together all of the new skills that the student has acquired over the prior few days. A typical final-day effort might be a section of a control surface in which skins, stiffeners, ribs, and spars are all prepared, fitted, drilled, and riveted.
The end of each day is usually spent in a question-and-answer "debrief" period with wide-ranging discussions about everything from specific building topics to aircraft history.
While formal instruction is certainly not mandatory or absolutely necessary to ensure the successful completion of an RV, it can certainly get a new builder off to a faster and much more confident start. The best compliment an instructor can receive as the class departs is hearing a student proclaim, "I can do this!"
Construction Classes are offered in the United States as well as in other countries.
United States
California
Provider: EAA SportAir
Type of program: Workshops
Location: Corona
Phone number: 800.967.5746
Colorado
Provider: Grov-Air, Inc.
Type of program: Workshops, Builder Assist
Location: Watkins, CO
Phone number: 317.919.6594
Email: rv6grover@sbcglobal.net
Website: www.grov-air.com
GEORGIA
Provider: Synergy Air South
Type of program: Workshops, Builder Assist
Website: http://synergyair.com/builder-classes/
Location: Newnan, GA
Phone number: (678) 854-6498
Maryland
Provider: EAA SportAir
Type of program: Workshops
Location: Frederick
Phone number: 800.967.5746
Ohio/ West Virginia/VIRGINIA
Provider: Ohio Valley RVators Builder Assistance
Location: Mid Ohio Valley Airport (PKB)
Contact: Rick Gray
Email: grayonthebay@gmail.com
Phone number: 740.350.5188
Oregon
Provider: Synergy Air
Type of program: Workshops, Builder Assist
Location: Eugene
Phone number: 541.603.8175
Class Dates: posted on web site
Website: http://synergyair.com/builder-classes/
Provider: Mix Aircraft Solutions LLC
Type of program: Workshops
Location: Mulino
Contact: Tim Mix
Phone number: 541.399.2731
Email: mixasllc@yahoo.com
Website: http://www.mixasllc.com/contact.html
Provider: Bend Builder's Assist and Maintenance
Type of program: Builder Assist
Location: 63032 Powell Butte Hwy Bend, OR 97701
Contact: Mike Robertson
Phone number: 509-998-1793
Email: mrobert569@hotmail.com
Website: https://www.bendbuildersassist.com/
Texas
Provider: Jay Pratt's RV Central
Type of program: Builder Assist
Location: Hicks Airfield
Phone number: 817-271-0594
Email: rvcentral46@gmail.com
Wisconsin
Provider: EAA SportAir Workshops
Type of program: Workshops
Location: Oshkosh, Wisconsin
Phone number: 800.967.5746
Other Countries
Australia

Provider: Sport Aircraft Association of Australia
Location: Narromine, New South Wales
Phone number: (61) 2 6889 7777
Website: http://www.saaa.com
BrAZIL 
Provider: Flyer Indústria Aeronáutica
Location: Sumaré, Brazil
Contact: Luiz Claudio Gonçalves
Phone number:+ 55 (19) 3303-3850
Email: claudio.goncalves@flyer.com.br 
Website: http://www.flyer.com.br 
Italy
Provider: DavideFlyer di Rosa Davide
Location: Palazzolo Vercellese (VC) 13040 Italia
Contact: Davide Rosa
Phone number:(39) 366 3388116
Email: davideflyer@yahoo.it
Website: http://www.davideflyer.it
Spain
Provider: Aviecom
Location: Igualada, Spain
Contact: Joan Comas Garrigos
Phone number: (34) 628214444
Provider: Alfonso Hernández Garcia
Location: Cambrils, Spain
Contact: Alfonso Hernández Garcia
Phone number: (34) 645 11 33 57
Website: http://usuaris.tinet.cat/alfonsoh/
United Kingdom
Provider: Light Aircraft Association
Location: UK
Contact: David Dale
Phone number: (44) 1280 846 786