Van's Aircraft – a Brief History
In the early 1970s, a skinny young engineer from a small town in Oregon built himself a better mousetrap.
Actually, it was a better airplane.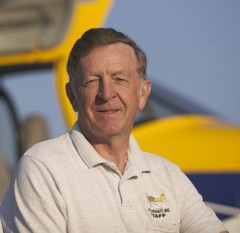 After improving another homebuilt design – the Stits Playboy – as much as he could, Richard ("Van") VanGrunsven decided to start with a clean sheet of paper. His RV-3 impressed a lot of people ("RV" of course, stands for Richard VanGrunsven). Many of those folks were willing to take on the task of building an airplane from scratch so that they, too, could have an airplane that flew like Van's. Already an experienced pilot, Van quit his job with a forklift company and seized the opportunity to work with his real love: aviation. He founded Van's Aircraft, Inc. in 1972 and began selling plans and a few parts for the RV-3. These he manufactured himself, working in a small shop behind his house in the small town of Reedville, Oregon. As the business grew and Van's Aircraft began producing complete aircraft kits and new designs, the company moved to larger quarters in North Plains, Oregon – a small town about 25 miles west of Portland. Van and his wife Diane built a home on a residential airpark just across the road from the factory. For many years, the RV prototypes and demonstration aircraft flew from the grass runway at the airpark.
Eventually, after several expansions, Van's had exhausted the available space and opportunities in North Plains, so in 2000 the company moved to a new 60,000 square foot facility near the small town of Aurora, Oregon (the people at Van's just like small towns.) Based on the Aurora State Airport (KUAO), the employee-owned company currently employs around 70 people (and dozens more in sub-contract roles) and keeps them busy manufacturing several hundred complete aircraft kits a year. In an era of out-sourcing and foreign manufacture, Van's is a bit of a rarity – a huge majority of the components used in the RV aircraft are manufactured in the USA, and most of them in Van's factory.
Van continues to reside in North Plains and commutes to Aurora by air, flying whatever RV strikes his fancy on the day. Van's Aircraft became employee-owned several years ago and the day-to-day operation of the company is now handled by others, but Van still has his desk and participates in the strategic conversations and provides design input. After years of working long hours, Van has carved out a little more time for himself. A lot of it he spends flying sailplanes. He has become quite expert at that sport, often winning his class (or at least placing quite well) in large soaring meets. When he is not in the cockpit of a sailplane, he and Diane travel, explore the world and visit their three children and grandchildren. In recent years, he's become passionate about youth build projects, and spends every Saturday teaching and introducing young people to aviation and their own potential by building airplanes.

As of today, 11,276 RV kits have been completed and reported to us as having flown, and thousands more are under construction. Completion rates currently average about 1.5 per day. RVs are flying in at least 45 different countries and kits have shipped to more than sixty. From their roots on a small farm in Oregon, these wonderful airplanes have achieved a global following. And their popularity is not the result of any superior marketing campaign, but rather simply because they fly so well and bring so much pleasure to their builders, who can't help but tell their friends.
After more than 50 years, Van's Aircraft is solvent, strong, and alive with new ideas. As an employee-owned company, we look to the future with energy and determination. The coming years will present plenty of opportunities and challenges, and we intend to meet them the way Dick VanGrunsven did when he first built the company: with honesty, practicality, diligence and imagination.