The plans and building instructions that come with our RV kits have been tested and proven by literally thousands of RV builders over the years. They are complete and usable, and come in two styles/formats depending on the model number of the kit you're building.
RV-3 through RV-9 kits come with construction drawings clearly printed on 24×36" paper. A separate 8.5×11" construction manual describes the steps and methods required to build the components shown on the drawings. Plans and construction are included with each kit, and are current on the day the kit ships.

RV-10 through RV-14 kits are different. The drawings for these airplanes break building down into a step-by-step operation, with virtually every step illustrated. Building instructions and drawings are combined onto 11×17 sheets of paper – lots of them! – making a separate builder's manual unnecessary. Each subkit ships with current plans.
Recently we started making plans available for all models in electronic format via a convenient and portable USB stick. Actually, what you get when you purchase the USB stick is a full set of electronic plans in a searchable PDF format – great both for previewing and to use while building. We also publish electronic updates and revisions to our plans to the Service section this web site when we make changes to our plans, or when certain new items are added.
About our Preview Plans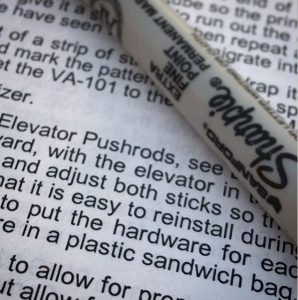 Because it's often desirable to look ahead, the plan sets you'll receive for the RV-3 through RV-9 kits include printed "Preview Plans." This is a complete set of drawings and construction manual for the entire airplane, but reduced to 11×17" in printed size.
Several preliminary chapters cover the basics of workspace, tools, nomenclature and accepted practices. They are easy to carry along on trips or open on a desktop. They are revised only once or twice a year, so they are not the most current version, but they will serve their purpose: giving a new builder the "big picture." Preview Plans are required to start the airplane and are usually ordered with or before the first kit order. More information about purchasing the Preview Plans Set or an electronic version of the plans on a USB stick is available in our online web store.
Sample Construction Manuals
Sample Construction Manual – RV-8 Section 6  |  Empennage, Pages 1-3 (90kb)
Sample Construction Manual – RV-10 Section 10  |  Tailcone, pages 1-4 (2.43MB)