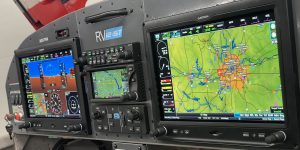 Van's Aircraft has published the RV-12iS IFR avionics package order form and is accepting orders. This package is available for the RV-12iS aircraft when equipped with the Rotax 912 iS engine.
This kit enables a home builder to configure their RV-12iS in the same manner as the factory-assembled SLSA RV-12iST instrument/commercial trainer aircraft.
The Garmin IFR avionics kit for the RV-12iS includes:
Two Garmin G3X Touch EFIS screens
GTN 650 IFR GPS/Nav/Com radio
Garmin audio panel
ADS-B Out
Autopilot servos for pitch/roll
GMC 307 autopilot control module
RV-12iS IFR fuselage wiring harness
All of the various parts/hardware/components required to install the system
Available options include:
ADS-B In and Sirius XM receivers
Finished, powder-coated panels with silk-screened placards
Subtraction of the second EFIS screen
The order form may be accessed at this link.
Note that the current Light Sport Aircraft standards (ELSA and SLSA) preclude operation in Instrument Meteorological Conditions (IMC). While aircraft licensed under the LSA standard may be operated "in the system" under Instrument Flight Rules, such as in a training environment, certification as LSA currently prohibits IMC operations. Also note that EAB-licensed aircraft are not restricted in this fashion.
Lead times for RV-12iS avionics packages are currently as long as six months, due to order backlog.
This kit cannot be used with the original RV-12 or an RV-12iS aircraft when equipped with the Rotax 912 ULS engine, due to the limited electrical capacity of that engine's alternator.