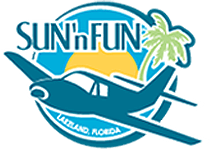 Join Van's Aircraft at the Sun 'n Fun International Fly-In Expo this year, April 2nd through the 7th in Lakeland, Florida!
Several of our employees – including Vic, Sterling, Eric and Greg – will be there with two of our factory aircraft: The RV-14 and RV-12iS. Stop by to talk aviation, get a close look at the airplanes, ask your questions and even place kit orders! You'll find us at booth NE 12 and 13.
Lycoming Engine/Prop Combo Show Special – Free Shipping on the Engine
During the Sun 'n Fun Expo, you'll receive free shipping as well as $1000 off on a Lycoming engine/prop combo order from Van's Aircraft. For details, see the brochure!
Meetup with "Flightchops" Steve Thorne –  Thursday at 1:00 p.m.
Be sure to come by the booth at 1:00 p.m. on Thursday and meet up with Steve Thorne – A.K.A. "Flight Chops!" Steve will be starting work on building a Flight Chops RV-14 this spring! Check out the YouTube videos from his visit to Van's last year, and come by to say hi!
See the One Week Wonder RV-12iS at the EAA booth
In addition, the 2018 One Week Wonder RV-12iS, which was built by volunteers in less than a week last year at AirVenture, will be at the EAA booth location for all to see.
See you there!