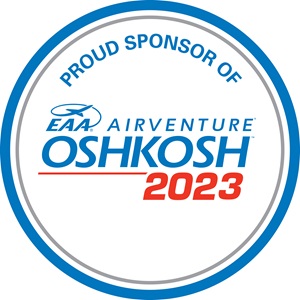 Join Van's Aircraft and the Experimental Aircraft Association, along with thousands of your closest aviation friends, at EAA AirVenture 2023!
Come see us at the Van's booth!
This year marks the 20th anniversary of the RV-10 and we will host a forum on Monday morning where Van will talk about the development and history of our 4-place aircraft. And, be sure to check out all the RV-10s that will be parked together in the homebuilt parking area! Are you flying your RV-10 into OSH this year? If so, click here to pre-register your airplane arrival! Pilots who are flying their RV-10 to the show and pre-register online will get an RV-10 20th anniversary ballcap at the show (Note: we also plan to have additional RV-10 anniversary caps for sale at the booth).
Airplanes at the booth this year will include the RV-7A, RV-10, RV-12iS, RV-14A, RV-14, and the RV-15 Engineering Prototype will be back as well!
Tuesday evening is the annual Van's Aircraft banquet at Oshkosh. Tickets for that event have sold out.
And, of course, we will present at a number of forums (see the schedule below) and we'll be at our booth all week with airplanes to check out and staff to meet and talk with, and …. Well, come to the show and see what all we have in store!
A limited number of Demo flights will be available via reservation only, which can be requested at our booth this year beginning on Monday morning. Various schedules, weather, and aircraft availability will determine which airplane(s) are available each day and how many demo flights we can facilitate.
Van's Aircraft "Factory" Forums/Events Schedule:
Monday
Tuesday
Wednesday
Thursday
10:00 AM – 11:15 AM CDT
Homebuilts In Review – Van's RV-10
Homebuilts In Review venue
(across from the Home Builders HQ building)