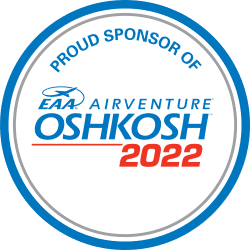 Join Van's and the Experimental Aircraft Association, along with thousands of your closest aviation friends, at EAA AirVenture 2022 in July!
We will be celebrating the 50th anniversary of Van's Aircraft at the show, with a variety of special events and presentations taking place.
Monday will be a big day of celebration with Van's Aircraft and a fleet of RVs being the focus at show center, plus a huge air show opening, and a Monday evening Theater in the Woods presentation.
Tuesday marks the return of the annual Van's Aircraft banquet at Oshkosh. Tickets for that event will go on sale on the Van's web store in mid-May.
And, of course, we will present a few forums, have our booth with airplanes to check out and staff to meet and talk with, and …. Well, come to the show see what all we have in store!
Demo flights may be requested online on our website starting in early June. Please check back for a registration link at that time.
Check back here for more details as we get closer to the show date!