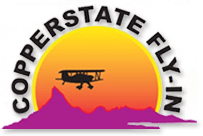 Come check out the Van's factory RV-14A and meet Van's Aircraft president Mitch Lock at the COPPERSTATE Fly-In. It's a great opportunity to ask questions and find out what's happening at Van's Aircraft!
The event takes place at Buckeye Municipal Airport (KBXK) in Arizona, and will be held in conjunction with the Buckeye Air Fair on February 8th, 9th & 10th, 2019. With forums and workshops and all sorts of fun things to see and do, it's sure to be a great show.
Mitch will be presenting an update on happenings at Van's. We hope to see you there!
| Date | Location | Presentation Topic |
| --- | --- | --- |
| Friday February 8th at 3:00 p.m. | Forum Tent 3 | Van's Aircraft President Mitch Lock: "What's New and Happening at Van's Aircraft" |