We'll be at the AOPA fly-in on May 10-11 in Frederick, Maryland! We will be flying our RV-12iS there, and we'll be there with AOPA for some cool new stuff, as well! Hint: You'll be able to see can see an Advanced Flight Systems panel and Aerosport Products interior going into a yellow RV at KFDK.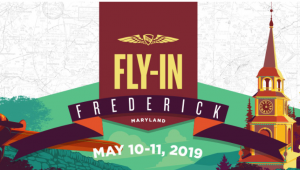 So – Come on out and say hi, and take in a great show. Lots of opportunities to have fun, learn and enjoy aviation!
Please be sure to read and follow the event NOTAM, available on the event web site. See the link at right.
Friday, May 10, 2019
8:00 a.m. – 9:00 a.m.
Pancake Breakfast
9:00 a.m. – 4:00 p.m.
Free Seminars / Paid Ground School Workshops
9:00 a.m. – 5:00 p.m.
Aircraft Display / Exhibit Hall Open
11:00 a.m. – 11:45 p.m.
Pilot Town Hall with AOPA President and CEO Mark Baker
11:00 a.m. – 2:00 p.m.
Lunch: Food Trucks
4:00 p.m. – 5:00 p.m.
Exhibit Hall Happy Hour
5:00 p.m. – 9:30 p.m.
Flightline Cookout, Presented by Jeppesen
Featuring special AOPA STOL Invitational demonstration;
D-Day Squadron flyover and Liberty Jump Team parachute demonstration,
Presented by Signature Flight Support
9:00 p.m. – 9:30 p.m.
Drone Aerial Light Show, produced by The Great Lakes Drone Company
Saturday, May 11, 2019
8:00 a.m. – 9:00 a.m.
Pancake Breakfast
9:00 a.m. – 4:00 p.m.
Free Seminars / Paid Ground School Workshops
9:00 a.m. – 4:00 p.m.
Aircraft Display / Exhibit Hall Open
11:00 a.m. – 11:45 a.m.
Pilot Town Hall with AOPA President and CEO Mark Baker
11:00 a.m. – 2:00 p.m.
Lunch: Food Trucks
12:00 p.m. – 1:00 p.m.
Special AOPA STOL Invitational demonstration;
D-Day Squadron flyover and Liberty Jump Team parachute demonstration,
Presented by Signature Flight Support
4:00 p.m.
Fly-In Ends