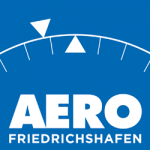 Join the Van's team this week at AERO Friedrichshafen, "the international aviation community's meeting place." Come by with questions, concerns or just to say hello, and meet Daryl and Gus from the factory.
At our booth this year is another wonderfully built plane by Stefan Schroeter, the first completed RV-14A in Europe. Stefan is now building his second RV-14A! He'd previously built a nice RV-7A. Stefan can be found in our booth to answer questions, along with RV-7A builder Klaus-Peter Morhard who is also building his second RV-7. Last but not least, Daryl's (possibly) favorite booth helpers are Heinrich and Barbara Schaerer, a friendly couple from Switzerland who's beautiful RV-12 painted in "almost" Swiss colors is on display.
The event runs April 10 – 13, 2019 at Bodensee Airport Friedrichshafen, Germany. Van's is located at exhibit space B4-301. We hope to see you at the show!