Lycoming has provided and published new engine prices, which are effective immediately. These prices are being published prior to the AirVenture timeframe and are valid through December 2023, which Lycoming and Van's hope will help people plan effectively. There will be no additional show specials from Lycoming between now and the end of the year. Note that the engine/propeller bundle discount, which provides the buyer a $1000 bundle price reduction when ordering both a prop and engine together at the same time from Van's, remains available.
The prices for standard experimental engines have come down relative to the prior pricing period (August 2022 price list) by about 4-6%, while Thunderbolt prices have been increased relative to prior prices. For the standard experimental engines, this brings the prices back to a level that is close to comparable with the prices that were in place in early- to mid-2022.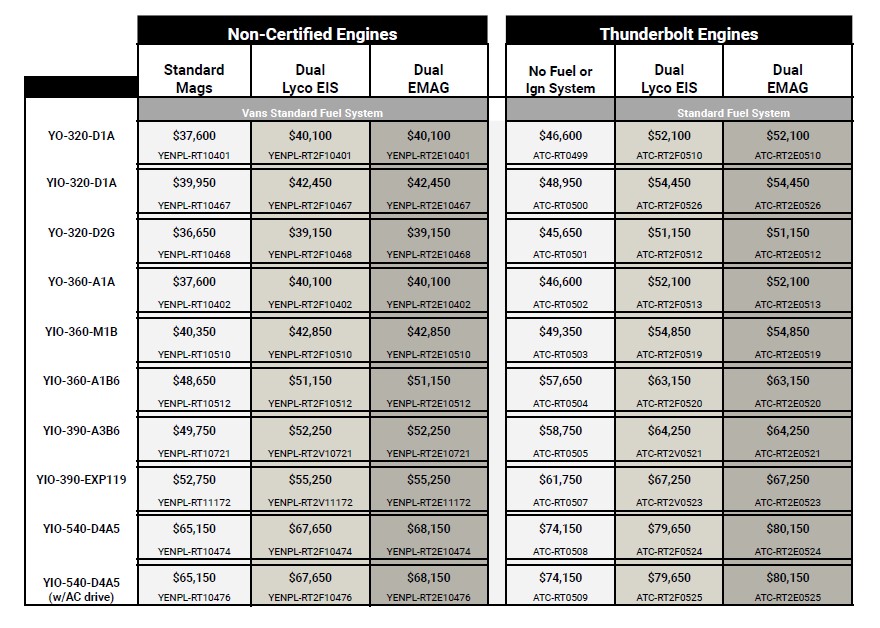 The new price premium for Lycoming's custom Thunderbolt engines (relative to the price of the same standard experimental engine model) is now $12,000. Lycoming's Thunderbolt engine production backlog currently extends into 2026. If anyone with a current Thunderbolt engine order would like to switch their order to the lower-cost/shorter-lead-time standard experimental engine model, they are welcome to do so. Please contact Chris Gayman at Lycoming via email – thunderbolt@lycoming.com – to make that request.
Lycoming ran a special for the Sun 'n Fun and AERO Friedrichshafen aviation events in April. Customers who ordered their engine during or in the month of March can receive the show-special pricing. Again, please contact Chris Gayman at Lycoming via email – thunderbolt@lycoming.com – if you ordered an engine in March before the show special started that your price be adjusted.
Engine Configuration Changes
A couple of changes to available engine configurations have also been made for new orders.
Lycoming has eliminated the option to delete the accessory pad on the IO-390-EXP119 engine. This change adds about 2 pounds to the weight of the engine, but in practice, nearly all customers have ended up deciding to include the accessory pad when their engine is built, so the configuration has been adjusted to reflect how engines are actually ordered.
There is no longer an option to choose the brand of fuel system on Thunderbolt engines. Airflow Performance will be installed (unless the no-ignition/no-fuel-system option is selected when ordering). The Airflow Performance system is the most-preferred by Van's Thunderbolt customers. Lycoming will be slowly converting all builds to Airflow Performance over the next few weeks/months and the fuel systems installed have been engineered to work with the Van's Firewall Forward kits. In related news, the owners of AvStar recently purchased the Airflow Performance business. AvStar and Airflow Performance will remain separate businesses operationally, but they are now owned under the same family/ownership umbrella. The AFP team remains involved.
We've worked closely with Lycoming for many years and appreciate their partnership. Collectively, we all realize that recently increased costs associated with building an airplane – including engine prices – have a real impact on builders. Businesses must price their products in a way that allows them to remain viable, of course. Lycoming has shared with us that their ultimate goal is to provide builders with the most cost-effective. high-quality product possible in their standard experimental Lycoming engines, and we are grateful to Lycoming for moving the needle in this direction after thoughtfully considering the needs of aircraft builders.