We are writing to communicate about delays to the delivery schedule for RV Quick Build kits, which are caused by several combined and unforeseen circumstances. In addition, we wanted to provide another update concerning a recently discovered issue related to primer applied to parts used in some QB assemblies that we received last year, and what we're doing about that.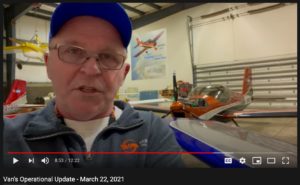 We've worked hard to navigate the complex business environment created by the COVID pandemic and to maintain operations as closely as possible to pre-COVID times. While most of our supply chain has remained relatively fluid and stable over the past year, a few of our key subcontractors have been forced to slow and/or delay delivery of services, products, and parts. In some cases, we've had to backorder parts and simply deal with delays to certain aspects of production.
COVID Related Impacts
Specifically related to customer orders for RV Quick Build kits, in Spring 2020 our Quick Build assembly contractor in the Philippines was forced to close for several weeks due to COVID. Upon reopening, that contractor remained significantly limited in staffing due to local COVID regulations. That resulted in a reduction in throughput of QB kit delivery and an extension of lead times and delivery dates for existing QB kit orders in 2020. The assembly contractor worked hard to deliver, but the "domino" effect of this has continued, while at the same time orders have remained strong.
Quick Build Primer Issue and Investigation 
In February, we announced we were investigating an issue with some Quick Build kits that were delivered to Van's by the assembly contractor in the second half of last year. The investigation relates to the insufficient application/formulation of primer on the interior surfaces of Quick Build wings and fuselages. We made the decision to pause shipping of QB kits in January so we could fully investigate and determine the necessary course of action. This means some customers had already taken delivery of potentially affected kits, while others were held in our warehouse while we investigated.
We have reached out directly to customers whose already-delivered kits may be affected and are working with those customers to assess and determine the best course of action for each kit. In certain cases, we've elected to retrieve the QB kits from our customers so we can replace them with new ones. In other cases, we mutually determine it is reasonable to remediate the issue by cleaning and repriming certain areas, and/or by the application of anti-corrosive materials to help ensure the parts are protected.
We've taken substantial steps to ensure the primer coverage issue has been fully addressed and verified it is no longer occurring on new QB assemblies. We've has several third-party lab tests performed and worked with suppliers to verify and validate the findings of our investigation. We've also hired additional staff at our factory to assist in this process and we continue to work closely with impacted customers.
We have also changed the primer being used by the contractor in the Philipines due to a lack of availability of the original primer from the supplier there. This is a permanent change, and the new primer has been evaluated and accepted by Van's. Assemblies coated with the updated primer will begin to arrive at Van's in late April in limited numbers. We are all working to ramp up production on new QB kits, but that will take some time.
Sales and Demand
Coincidentally, it turns out that January and February were – by a significant margin – the largest months of kit sales in the history of Van's Aircraft … and March is looking about the same. In fact, 2020 kit sales were significantly greater than our already strong sales from 2019. In other words, demand for kits is much higher than it's ever been at a time when the availability of parts and labor is challenged by current circumstances. Our company's philosophy is to do whatever we can to keep the costs and timelines associated with building an excellent airplane as reasonable as possible for our customers. So, we're doing what we've always done for nearly 50 years when things get tough: reviewing our current supply, staffing, and logistics against the calendar and making necessary adjustments to our operations.
As a result of these combined circumstances, our Quick Build kit construction and delivery pipeline has been significantly impacted. We are constricted in terms of the supply of parts needed to meet order volumes within timelines that we previously established and communicated.
For customers who have already received QB kits that now need to be "swapped out" we must prioritize their resolutions, and our incoming QB inventory must be leveraged to help fill that need. In turn, this results in some amount of delay for customers who currently have QB kits on order. We cannot yet advise exactly what this delay looks like, as we are currently forecasting and planning our ramp-up in production. Please know that we are working diligently and will do our best to communicate that information as soon as possible. As we are able to further refine our production and delivery plans, we will communicate with individual customers concerning their orders and estimated delivery schedules.
As mentioned, we have quite a few undelivered QB kits that are currently located in our warehouse, a significant number of which are affected by the primer application/formulation issue. Therefore, this week we will begin contacting customers for whom these kits were originally built, to explain available options and to determine the appropriate steps for each customer. As part of those conversations, customers will be provided a set of options:
On an as-available basis, customers whom we identify based on order priority may request to take delivery as-is of an "affected" in-stock Quick Build kit, along with a $2000 stipend per kit to help remediate and address any insufficient primer and/or small amounts of surface corrosion. We will offer this option to those currently awaiting kit delivery, based on when the customer's original order was placed starting with the earliest orders. Our ability to make this option available will be limited by stock availability. We will communicate with customers regarding this option, where available, over the next couple of weeks.
The customer may request and wait for a new QB kit, to be delivered when available. Due to production lead times, we anticipate we will not begin to receive significant numbers of QB kits until this Fall and the number of kits we can deliver between now and then will be limited.
The customer may opt to exchange their Quick Build order for a Standard Build kit, to be delivered when one is available. We are working to forecast availability of standard build kits. If a customer chooses this option, the difference between the purchase price of the QB kit and a standard kit will, of course, be refunded.
Operational Changes and Adjustments
We've made the following temporary operational adjustments to our business to ensure we can deliver and make commitments on QB delivery for current and future customers:
We are in the process of ramping-up internal production of parts in Oregon, as well as Quick Build assembly capacity and capability at our contractor's location in the Philippines.
We are currently in the initial stages of adding a second Quick Build assembly contractor, in order to increase capacity in that area. More information about this expansion will be available at a later date.
We have adjusted our Quick Build kit lead times for all new QB orders to "one-year-plus," meaning we cannot yet provide a more specific estimated delivery date, and that our current estimate is more than 12 months.
When we take new Quick Build kit orders with a "one-year-plus" timeline, we are putting each order on our list in first-come, first-served order. We will not require a deposit until we've determined the revised manufacturing timelines and estimated delivery dates. Once we have estimated delivery timeline information, we will communicate with the customer and collect the deposit to confirm the customer's "place in line."
We will, of course, work diligently to pull these lead times in whenever we can, and to deliver as soon as possible given the circumstances.
We wish we could provide specific delivery dates now, but the complexity of the situation means that's not yet possible. Please understand that we won't be able to provide dates yet, even if pressed to do so. We fully understand the reasons why people want this information, and we understand this may be frustrating. We also know from experience that people often plan their lives around the timing of their kits, so we will make those commitments when we have a more confidently confirmed timeline for each customer. 
Summary
Van's Aircraft is committed to doing the right thing and delivering the quality our customers expect, so they can build an awesome airplane and fly it for many, many years. While we wish this communication didn't have to be about delays, we want to make sure to communicate – as accurately as possible – what's happening, why it's happening, and what we're doing about it.
Our commitments to safety, transparency, and our customers are critical to us as a business and as individuals. As always, we truly appreciate each member of the Van's Aircraft extended family. Thank you as always for your understanding and support.
The Van's Team