This year marks the 40th Anniversary of the RV-4, and we've been working with EAA to have a special, dedicated parking area at AirVenture 2019 for pilots who would like to show their pride and park their RV-4s together on display!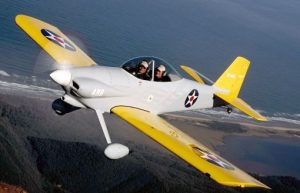 Pilots who park in the RV-4 Anniversary Parking will also have the option of pitching tents to camp in an area near the home-built camping pavilion, so you can still be right there with all your RV friends while your RV-4 is on display!
We're working on some additional celebration details here at Van's, as well. It looks like we may be able to put on a special forum presentation, with a "Very Special Speaker" who'll cover the history and design of the RV-4 from a first-person, in-the-know perspective and its significant role in getting the kit aircraft business off the ground.
If you'd like to park your RV-4 in the 40th Anniversary special parking display area at AirVenture this year, you can sign up on the EAA web site, at this link!