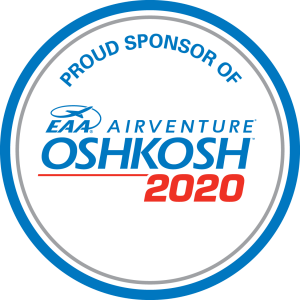 Once again, come spend time with us this year at AirVenture 2020 in Oshkosh! You'll find us at the corner of Wittman Rd. and Gallatin Ave in an even larger space.  As always, we'll bring the RVs for you to see and sit in, as well as a slew of the fine folks from Van's to answer all your questions, help you place your kit orders, talk airplanes and show you the aircraft.
It's the 25th Anniversary of the RV-8 this year, and we will have a variety of special things to see and activities around that celebration!
We will be conducting limited demonstration flights at AirVenture for people who are deciding which RV kit they'd like to purchase and build. Beginning last year, we started taking reservations online, as demo flight slots are limited. We will open up the demo flight registration system in April this year, so keep an eye on this link, and/or sign up for email announcements from Van's to know when you can sign up.
Looking for tickets to the Annual Van's Aircraft Banquet? We will also link to that reservation system and share details here and in the announcement emails.
Check back for information and schedules for Van's Aircraft forum presentations as well as other great RV-related presentations, forums, topics and other events.
We'll see you there!