We've received the updated pricing from Lycoming, which is shown below and will be effective starting Tuesday, March 15, 2022 at 12:01 a.m. Pacific Time. We are sharing this price change information with Lycoming's permission, in order to allow customers the opportunity to make purchasing decisions before the price increase takes effect. In addition, you can refer to our recent info update post at this link, which includes some additional details about the pending change.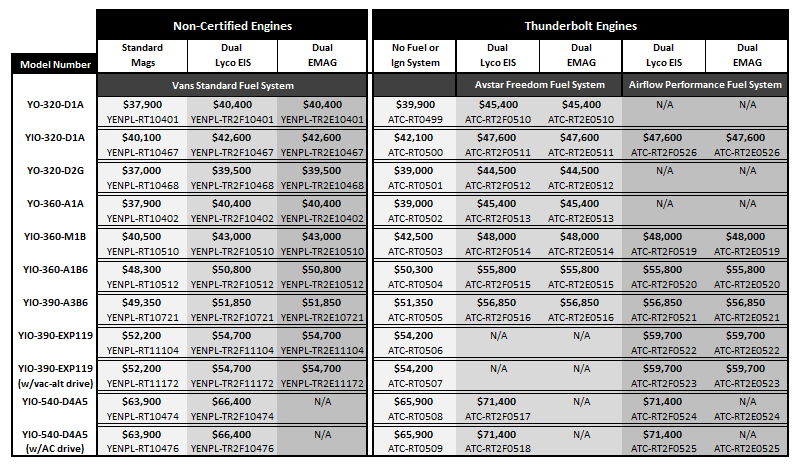 THUNDERBOLT "STANDARD" ENGINE OPTIONS
Changes are also being be made to the pricing model for Thunderbolt engine options. These changes are outlined below.
Paint Color Options:
Thunderbolt Engines come standard with the following color choices.
Single Color Choices (included in base price): Choose between Red, Black, and Metallic Show Grey.
Two-Tone Color Choices (+$200): Paint the crankcase and the cylinders in different colors. (Red/Black/Show Grey)
Custom Color Options:
You also can select custom PPG paint color(s) of your choice. Customer provides the PPG color code.
Single Custom Color (+$400)
Two-Tone Custom Color (+$600)
Polished Cylinder Fins (+$2000)
THUNDERBOLT "PREMIUM" CUSTOMIZATION OPTIONS
The options below are available on a custom Thunderbolt Engine Build. These options require additional engineering and a custom bill of materials. Therefore, these options are subject to a custom engine charge (+$1000 one-time charge per engine) in addition to the price of each option selected below.
Compression Ratio Changes
320 or 360 Parallel Valve Engines
(All 320s, O-360-A1A, IO-360-M1B)

9:1 High Compression (+$700)
10:1 High Compression (+$700)

390 Engines

7.3:1 Low Compression (+$3500)
10:1 High Compression (+$700)

540 Engines

9:1 High Compression (+$1000)
10:1 High Compression (+$1000)
Chrome Pushrod Tubes
320, 360, 390 Engines (+$800)
540 Engines (+$1200.00)
Cold Air Induction
Only available for 540 Engines (+$5400)
Aerobatic Kit
Remove Parts
Starter Ring Gear (-$400)